Moving to a digital workplace
More and more companies are working in a fully digital environment, but what does this shift really mean? Before the pandemic, only 8% of employees with remote capability (i.e., able to do at least some of their work from home) worked exclusively from home, while about one-third had a hybrid work model.
The pandemic forced the vast majority of workers to adopt some form of remote work model, with up to 70% working exclusively from home by May 2020.
By February 2022, the majority of employees with the option to telework were still working from home at least some of the time, but the mix was almost evenly distributed, with 42% working in a hybrid work model and 39% working exclusively from home.
The rapid adoption of hybrid working has led to unprecedented growth in technological capabilities. The exponential increase in computing power available to both consumers and businesses, as well as vast improvements in Internet connectivity, are transforming the way workers and businesses work.
In addition, the evolution of cloud technology has enabled the rapid development of digital communications platforms, virtually unlimited storage capacity, data mining, and increased security, enabling virtual and global collaboration in more and more areas.
Technology, including virtual meeting tools and applications, has enabled the end of the constant 9-to-5 commute and made the digital workplace location-independent.
Employees are no longer tied to a desktop computer and a fixed desk in a physical office. They can use almost any device imaginable to communicate and collaborate from any platform, at any time, from different cities or from anywhere in the world.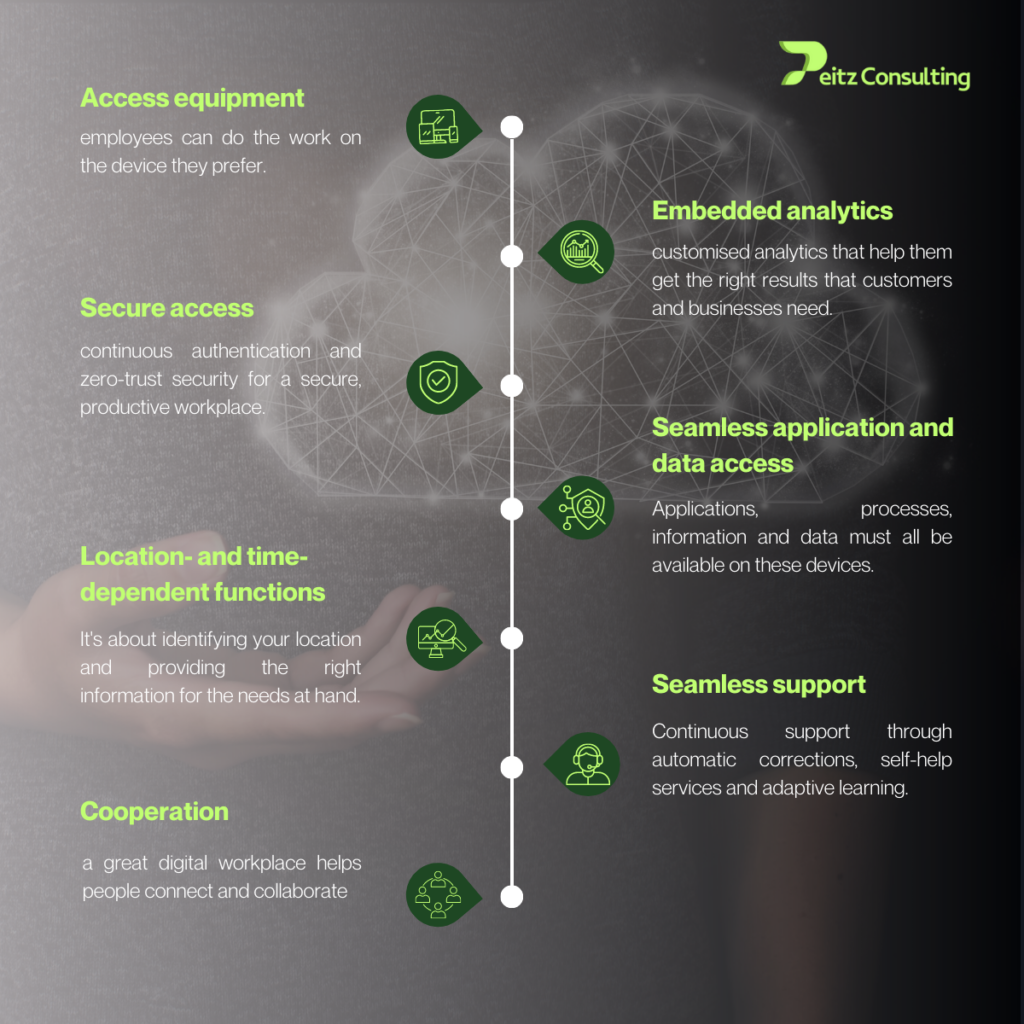 How to develop a framework for the digital workplace
Around the world, organizations have adopted a digital workplace strategy that improves employee engagement and incorporates modern collaboration tools and enterprise applications. Digital workplace initiatives are impacting how technology changes the way employees work, as well as where and how work gets done.
By implementing digital workplace frameworks, organizations can effectively remove barriers to effective communication and collaboration. Complete digital transformation does not happen overnight. A successful digital workplace infrastructure is one that aligns the right technology and talent with an organization's future goals.
Key components of a successful digital ecosystem include:
Synchronous and asynchronous communication channels: A digital workplace should allow employees to communicate with each other synchronously (or in real time), regardless of their location or the device they are using. This can enable knowledge sharing when teams are not in the same office space and cannot have face-to-face meetings every day. Asynchronous communication is also important because it allows employees to respond to messages on their own time, and it allows remote team members to create their own work schedule.
Project management: The digital workplace can enable better project management by establishing guidelines, procedures and policies for the successful execution of a project from conception to completion. This ensures that all departments involved in the organization can work together effectively to achieve project goals. Teams can create new projects directly on the digital work platform and collaborate in real time. They can also manage and track projects to ensure all deadlines are met and project information is easily accessible to all stakeholders.
Process Management: It helps companies create, edit and analyze the internal processes that are at the heart of their business, helping to assess the current state of the company and identify areas for improvement. With a digital workplace, companies can digitize their internal business processes and transform them into streamlined workflows. Digital workplaces can identify and automate repetitive, routine, and predictable parts of a process, allowing employees to save time and focus on more important tasks.
Case management: It is the method of processing information through a combination of digitized workflows and human decision making. It provides a dynamic structure for executing unpredictable and non-routine business processes that require complex decision making. Cases can vary depending on the organization. For example, a case may be the handling of a service request or the resolution of a customer complaint. A digital workplace facilitates case management for multiple users through a single interface. It also facilitates effective collaboration and ensures that priority cases are resolved quickly within the organization.
Analytics: An important aspect of a successful digital workplace strategy is the implementation of detailed and intelligent analytics tools. These tools help turn large amounts of disjointed data generated in a digital workplace environment into actionable information. With clear analytics aligned to the digital workplace, companies can easily translate enterprise data into charts, infographics and simplified forms for better insight. In addition, with powerful analytics tools, a digital workplace can take a bird's eye view of everything to make important decisions.
Why it's worth going digital
Among the many benefits of adopting a digital workplace:
Global collaboration at work is facilitated through a variety of collaboration platforms.
Remote working can not only increase productivity, but also allows flexibility for employees and employers. This leads to higher employee retention, improved productivity, and greater workplace satisfaction and experience for the entire workforce.
Huge cost savings by reducing the need for travel, expensive real estate and other conventional operating costs.
Improved business connectivity, flexibility and agility, with more opportunities to achieve business goals faster.
Moving workflows into the digital space provides more information about daily operations and improves visibility, helping to identify successes and opportunities for improvement.
Digital workplaces enable a company to attract the best talent because they are not bound by geographic or location constraints.
How to ensure digital technologies in the workplace?
While digital technologies have brought many benefits, the digital workplace also has some fundamental shortcomings:
Technical problems
Remote or inconsistent quality of network connections
Corporate networks are not equipped to handle the growing demands of hybrid working, especially video
Incompatible devices
Poor audio and video quality
Workspaces not optimized for hybrid collaboration, both at home and in the office
Security risks associated with managing multiple devices and networks
Lack of immediate on-site technical support
Social and cultural issues
Difficulty separating personal and professional lives
Feelings of personal isolation or social alienation
Hesitation or difficulty in adopting hybrid communication technologies
Lower team motivation and morale
Difficulty maintaining corporate culture
Unclear performance metrics
In the digital workplace, Big Data and analytics are critical to understanding end-user performance and identifying which user communities are impacted. When you're able to look across every layer of your hybrid work ecosystem, you gain a wealth of information and insights that drive team cohesion, cost management, innovation and growth.
Due to the disparate nature of hybrid work, a digital workplace can consist of dozens or even hundreds of different applications, devices, networks and locations. Therefore, it is important to monitor performance in real time and have the ability to respond to issues immediately.
Visit our Digital Workplace section to learn more about the services we offer in this area.
Do you have a special project in mind?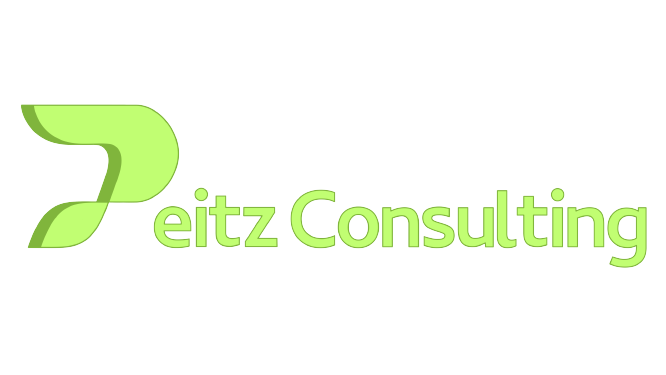 Your transformation is our passion.
Sonnenstraße 10, 73650 Winterbach Deutschland
Copyright 2023 Peitz Consulting. All Rights Reserved.