Towards a more digitalized banking sector
The path to digitalization of the banking sector is an unstoppable, important and necessary development that will enable better and more secure services. But do we really know what this process consists of and which technological tools are used in the process?
What does digitalization mean in the banking sector?
Digitization involves the use of digital technologies to optimize business processes, improve customer relationships and create new business models. This includes a variety of technologies such as cloud computing, artificial intelligence, blockchain technology and the Internet of Things.
An important aspect of digitalization in the financial sector is the automation of processes. This allows repetitive and time-consuming tasks to be completed automatically, leading to greater efficiency and cost savings. One example of this is automated lending, where the credit process is fully digitized and customers receive a credit decision within minutes.
Another important aspect of digitization in the financial sector is the improvement of customer relationships. Digital technologies enable banks and financial service providers to better understand their customers and offer personalized services. For example, banks can use data analytics to understand their customers' buying behavior and provide them with personalized offers.
What impact will digitalization have on the future of the financial sector?
Digitalization is already having a significant impact on the financial industry and will continue to play a crucial role in the future. Some of the most important effects are:
New competitors are entering the market: Digitization is enabling new companies to enter the financial sector and challenge traditional banks and financial service providers. One example is the so-called "fintech" companies that offer innovative digital services, such as mobile payment solutions or digital loans. These companies are often able to respond quickly and nimbly to market needs and therefore have a competitive advantage over incumbents.
Changes in customer behavior: Digitization is also influencing customer behavior. Customers are increasingly using digital channels for banking transactions, such as online banking or mobile banking apps. This requires banks and financial service providers to adapt their business models to the needs of their customers.
Increased efficiency and cost savings: Digitization enables banks and financial service providers to optimize their processes and reduce costs. By automating processes, many tasks can be completed faster and more efficiently. This allows employees to focus on more complex tasks and increases customer satisfaction.
Trust as an important success factor: Customers must be able to trust that their data is secure and that their financial transactions will be processed reliably. Banks and financial service providers must therefore invest in the security and data protection of their digital services in order to gain the trust of customers.
How can banks and financial service providers benefit from digitalization?
Banks and financial service providers can benefit from digitization by using innovative digital technologies to optimize their processes, improve their customer relationships and create new business models. Some of the most important measures are:
Use of data analytics: Data analytics can help banks and financial service providers better understand their customers' behavior and make tailored offers. For example, by analyzing customer and transaction data, banks can better assess risk and prevent fraud.
Investing in artificial intelligence: Artificial intelligence can help banks and financial service providers automate processes and increase efficiency. For example, chatbots can automatically answer customer questions and make credit decisions automatically.
Implementing blockchain technology: This tool can help banks and financial service providers process transactions more securely and quickly. For example, payments can be processed in real time using blockchain technology without the need for an intermediary.
What challenges does the digitalization of the financial sector bring?
The digitization of the financial industry brings with it a number of challenges that must be overcome in order to reap the full benefits of digital transformation. These include:
Ensuring the security and privacy of customer data.
It is important for banks and financial services providers to comply with the new regulatory framework to avoid any negative impact on their business and reputation.
Lack of qualified professionals with knowledge of new technologies. It is important that companies work to attract and retain talent to successfully implement their digital transformation.
Integration of new technologies into existing IT systems and any necessary investments in IT infrastructure.
Through digitalization, the financial sector can further foster innovation and entrepreneurship and support a just transition to a low-carbon economy. In addition, "the sector plays a key role in promoting economic growth and employment-friendly macroeconomic conditions in all countries. Digital finance also offers the opportunity to develop better banking and financial products and services for consumers, and new ways to channel finance to businesses to improve financial inclusion," said Giancarlo Ferrara, Vice President of the Employers' Group of the International Labor Organization (ILO).
Hast du ein besonderes Projekt im Kopf?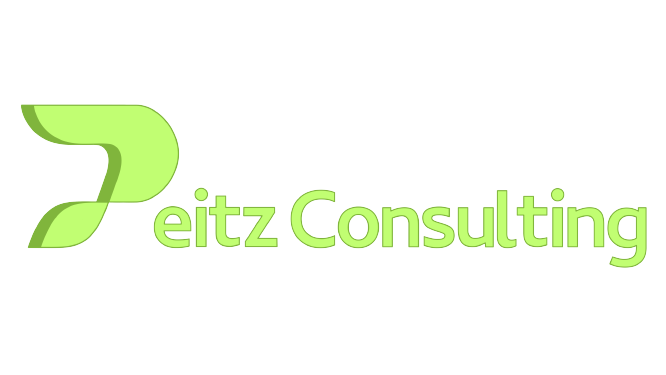 Your transformation is our passion.
Sonnenstraße 10, 73650 Winterbach Deutschland
Copyright 2023 Peitz Consulting. All Rights Reserved.